Destination TEFL, Koh Samui started in 2011 as Samui TEFL, on the beautiful island of Koh Samui, Thailand. But Destination TEFL is all about ideal destinations – destinations to do your TEFL/TESOL course, as well as destinations to teach English.
With this in mind, we opened our next training centre in Cambodia – a land where ancient and modern worlds collide to create a unique destination.
As Bali is on most people's SE Asia travel bucket list – this was our next TEFL course destination, ideally located in the beach resort town of Sanur.
Koh Samui closed at the start of the pandemic, but now, we are pleased to announce that we are back in Thailand, with a new training centre opening in Bangkok in November 2021!
Choose to do your TEFL/TESOL course in:
Siem Reap, Cambodia
Bali, Indonesia
Bangkok, Thailand
At any location you'll find the same quality 140-hour TEFL/TESOL course with highly skilled and passionate trainers, and teacher practicums in local schools, businesses and NGOs. Rest assured that you'll be in great hands – our TEFL trainers are highly skilled and have years of experience in education.
To improve the level of ESL teachers across Southeast Asia by offering Internationally recognized and accredited TEFL certificate training onsite in Cambodia, Indonesia and Thailand.
Destination TEFL is in collaboration
Destination TEFL is pleased to announce a new collaboration
Destination TEFL offers TEFL/TESOL courses in academic collaboration with Asian College of Teachers (ACT), Asia's largest teacher training body with 30,000 alumni and 600 schools associations across Asia.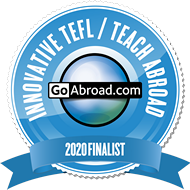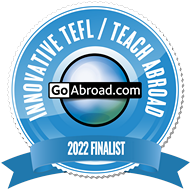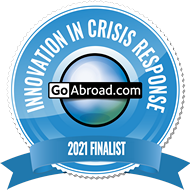 What is it and why is it important?
When you're getting started in TEFL and deciding which certification to take, one thing to keep in mind is whether or not the course provider is accredited.
So first of all, what is TEFL accreditation and what does it involve?
TEFL accreditation is a form of quality assurance. An external organisation comes up with a set of standards which it believes providers should adhere to in order to deliver a quality training program.
The biggest problem with the TEFL industry is the lack of regulation. Anyone can create a TEFL course, market and sell it.
Inevitably, this means that there are hundreds of courses to choose from, many of which are low quality. Some are even created as a means of exploiting badly informed potential trainees, with hollow promises of high quality training at rock bottom prices. So you can start to see why having a reputable, high quality accreditation behind a course can help both you and the training centre.
According to the Memorandum of Association as a registered company in Cambodia, license no 00051068, Destination T.E.F.L Training Co., Ltd. is registered as the following:1. 852 – Secondary education 85211 Lower secondary education85212 Upper secondary education2. 853 – Higher education 85301 College and university education (Private) (7)3. 854 – Other Education 85495 Other non-degree vocational and technical training (5)PROOF OF REGISTRATION – https://opencorporates.com/companies/kh/00051068
All Destination TEFL graduates receive a joint certification with the Asian College of Teachers (ACT) who is accredited by the Accreditation Service for International Schools, Colleges and Universities (ASIC), UK, Education Quality Accreditation Commission (EQAC), Spain and their TEFL course is endorsed by TESOL Canada, Canada and NCC, Education, UK.
All Destination TEFL alumni enjoy free access to an exclusive teachers job portal www.teachersjobworld.com to apply to 100's of jobs globally.
All Destination TEFL alumni are awarded with a certificate with a unique identification number which can then be verified by prospective employers on the Asian College of Teachers website.
It can ensure that you are receiving good quality training that has met the standards imposed by the accrediting body.
Accreditation may increase the chance that your TEFL certification will be recognised and trusted when it comes to finding a job. The majority of employers will only consider applicants whose TEFL certification meets some minimum standards. Many employers, for example, require a course that is at least 100 hours in length and includes at least 6 hours of observed teaching practice. Accreditation from a body that sets these standards is one way for providers to give this guarantee to its trainees (it should be noted that our Destination TEFL courses are 140 hours).
You can look at accreditation as a form of protection. It is protection for yourself, to ensure that you aren't being exploited by a shady TEFL course provider, and therefore to ensure that you aren't throwing your hard-earned money down the drain on a low quality, untrusted or unrecognised course.
It is protection for your future employers, who need to know that they are recruiting teachers who have received quality training.
And it is protection for your students, who have the right to expect their English language trainer to be well qualified.
The accredited TEFL course in Siem Reap – Cambodia, Bali and Bangkok is 140 hours, over 4 weeks, and additional hours will need to be done in your own time for resourcing, studying and planning. Your accredited TEFL certificate indicates that it includes observed practical lessons – this is the preferred requirement for schools worldwide, and they are now reluctant to accept online courses or the shorter 60-hr courses. You receive your certificate on the last day of the course, along with a letter of recommendation and a detailed report to show prospective employers.
All of the learning is done hands-on through games and interactive activities. You will never just be lectured to, but will always be involved in every lesson. The theory in the TEFL/TESOL course is presented by the trainer using games, and strategies and activities that you will then be able to use in your own teaching, allowing you to build your portfolio of activities and teaching tools from day one. Your observed teacher practicums will start from week two, when you'll be able to apply these techniques yourself.
We limit our numbers in our TEFL/TESOL course to small groups, so that we can offer personal assistance with lesson planning and any area you may need help with such as grammar etc. Our practical training includes both youth and adult lessons, at various schools, businesses and NGOs. Should your course be over a school holiday, we'll use the same children, but teach them in the form of a summer camp.
Class times are generally from 9am to 4pm, but may vary depending on teacher pracicums and other activities.
Students will also enjoy a day of culture and local activities, which may vary depending on the season and location.
What will I learn on the TEFL/TESOL course?
The following areas/subjects are covered during your 4 weeks of TEFL/TESOL training at Destination TEFL/TESOL:
An introduction to South East Asian culture – to help your transition into the local classroom and community.
Teaching techniques – we provide you with models to teach beginners as well as advanced students, young learners and adults
Teaching the four skills of language: speaking, listening, reading and writing Planning a course for special purposes (such as for a business)
Grammar – brushing up yours as a teacher, and techniques to teach grammar
Phonics
Creating materials for lessons
Lesson planning
Suitable activities for the language classroom
Discipline in the classroom
Building rapport with your students, including warmers and coolers in the classroom.
Classroom management, covering all aspects of Teaching one-to-one, as well as larger classes
Teaching vocabulary
Understanding problems for Asian learners (understanding the differences between their language and English) as well as for other key languages, such as Spanish and Russian.
Error correction techniques
Preparing your CV/resumé, and tips for the interview process
Teaching business English
Teaching practicums and assignments:
You will have the opportunity to conduct several full lessons (teacher practicums). These are observed by a trainer, and detailed and constructive feedback is given to you after each lesson, to help you improve for your next TEFL lesson, and your career to follow. (You will get an opportunity to teach both young learners and adults). Our qualified TEFL trainers will assist you with the lesson planning process.
Materials project: Here you will present the materials used for lessons, to the class.
A journal entry assignment
Various lesson planning and group work assignments
Various tests and tasks over the 4-week TEFL course, on grammar, punctuation and a few other aspects covered in class. We work with our teachers to adequately prepare them for these tests. All content of the tests is covered during the course.
NOTE: There is no final examination that determines your pass grade. Your final course result is determined by the combined marks of the assignments above, as well as on your participation and teamwork in class, attendance, and behaviour.
A grade of at least 70% is required in order to pass the course. More than 50% of this grade is made up of marks for teaching practicums.
Trainees are awarded either a 'pass', 'merit', 'high merit' or 'distinction'. All graduates receive a report, and those who obtain a Distinction, are also presented with a personalised letter of reference.
Between the directors and our trainers, we have 50-plus years' of experience in the TEFL and training business. All members of the Destination TEFL team have lived abroad – so they know what a daunting prospect it can be to take the plunge and start your TEFL adventure. You are in good hands…what's your next destination going to be?
—Co-founder and Academics Director
Meet Kathryn Webb, the visionary co-founder and Head Course and Academics Director at Destination TEFL.
Embarking on her journey over two decades ago, Kathryn relocated from the USA to Italy, setting the stage for her remarkable TEFL career. Armed with a psychology degree, her insights into classroom management are invaluable. Additionally, she holds a DELTA (Diploma of English Language Training to Adults) and a CELTYL (Certificate of English Language Training to Young Learners), showcasing her expertise in teaching both adults and children.
Before making her mark in Thailand, Kathryn established and operated a renowned language school in Italy for an impressive nine years. During this tenure, her company specialized in training teachers and facilitating placements within Italy's elite fashion houses and various businesses. Beyond this, her school conducted classes for both children and adults within their premises.
Kathryn's teaching philosophy revolves around a dynamic, hands-on, and interactive approach that captivates and involves students. This ethos is not only imparted to trainees but also encouraged for implementation with their future students. Splitting her time between Bangkok, Siem Reap and Bali, Kathryn brings a wealth of experience and dedication to the educational forefront at Destination TEFL.
— Co-founder and Managing Director
Introducing Willie van Loggerenberg, the 3rd partner at Destination TEFL and your dedicated contact in Siem Reap.
With an extensive background as a seasoned Key Accounts Manager boasting 17 years of involvement in the TEFL/TESOL sector, Willie brings a wealth of experience. Having served as a program developer and National manager for teach abroad initiatives at South Africa's oldest and largest Work and Travel organization, his expertise spans the TEFL and Gap Year domains, having explored and studied 23 different countries.
Willie possesses comprehensive insights into the intricacies of partnership dynamics and the day-to-day recruitment processes for TEFL candidates. His extensive international engagements across Southeast Asia and Latin America underscore his ability to foster enduring and fruitful relationships.
Based in Siem Reap, Willie is actively engaged in on-site operations, encompassing training, placement, and holds the pivotal role of global managing director, driving new business development initiatives on a worldwide scale.
Rose-Anne Turner runs the office with regards to admin and admissions, and is a co-owner of Destination TEFL. Rose-Anne and Kathryn have been in partnership for several years in Thailand with Samui TEFL. Rose-Anne is your first contact, and will answer your enquiry. Having lived in Thailand for 7 years and working at Samui TEFL, she is happy to answer every question you may have before booking your place, with regards to the course, teaching, Thailand, Cambodia and Asia in general – no question is too big or too small. Rosanne handles the 'behind the scenes' side of Destination TEFL, leaving Kathryn and Willie to be hands-on with the trainees.
—General assistant and school network manager - Siem Reap, Cambodia
Chiep Chy is our general assistant and school network manager. Chy grew up in the Siem Reap province, about 60 kms from Siem Reap City. He earned his bachelor degree in Teaching English as a Foreign Language (TEFL) at Build Bright University in 2016 and recently added a second TEFL certificate at Destination TEFL in November 2020 under his belt. From 2014 to 2017, he taught English to young and adult learners at 'Khmer for Khmer Organization' here in Siem Reap. Since 2017, he's been an English-Speaking tour guide with a great knowledge of Cambodian history and also all the amazing tourist attractions in and around Siem Reap, as well as other provinces in Cambodia.
Chy joined the Destination TEFL team in Cambodia as the General Assistant and School Network Manager. He is responsible for building great relationships with all the international schools in Cambodia, and offers the Destination TEFL graduates placement assistance. He will soon become the Khmer teacher, offering short language courses to the Destination TEFL trainees and other expats in our city.
—Head Trainer – Bali, Indonesia
Georgie is a travel enthusiast and seasoned educator with nine years of experience combining teaching and global exploration. With a teaching career spanning eight years across three continents, she has imparted knowledge to students of all levels in the UK, Australia, New Zealand, Vietnam, and Cambodia.
Georgie's adventurous spirit has taken her through Vietnam on a three-month motorbike journey, volunteering in a Thai orphanage, living in the Australian outback, and exploring various corners of the world. She's adept at teaching different types of English, including business English, corporate English, exam preparation, general English, and English for young learners.
Equipped with a BA in community drama, CELTA, Cert IV in TESOL, and Cert IV in training and assessment, Georgie is not only highly qualified but also passionate about forming meaningful connections with her students. Her friendly and enthusiastic approach ensures a memorable learning experience for everyone she teaches.
—Trainer – Siem Reap, Cambodia
Meet Emily, a seasoned traveller with an enriching journey spanning almost three decades. Her adventures have taken her far and wide, from backpacking escapades to delightful cruises, all while dedicating the last 20 years to the world of teaching. Emily has had the pleasure of visiting and working in over 51 countries, immersing herself in diverse cultures that have profoundly influenced her perspective and character.
Emily is not only a passionate educator but also a highly qualified professional. Her journey in education has been enriched by a series of TEFL qualifications, including:
– Certificate in Teaching English as a Foreign Language (CTEFL) – 2003
– Delta Modules 1 & 2 – 2015
– British Council Teacher Trainer Professional Development Certificate – 2014
Throughout her extensive educational career, Emily has prioritised delivering exceptional customer experiences and her own personal development through dedicated research, knowledge expansion, and embracing varied roles in the academic domain. These roles have ranged from Teacher and Trainer to Coordinator and examiner, as well as local and regional Academic Manager positions.
Her dedication extends beyond the classroom, striving to be a valued member of any team and championing the training and career development of others. Emily has had the privilege of supporting students from around the world, spanning a diverse age range of 3 to 80 years old, each with unique needs, levels, and motivations for improving their language skills.